Sunday Afternoon Maths LXIII
Is it equilateral?
In the diagram below, \(ABDC\) is a square. Angles \(ACE\) and \(BDE\) are both 75°.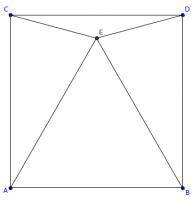 Is triangle \(ABE\) equilateral? Why/why not?
Cube multiples
Six different (strictly) positive integers are written on the faces of a cube. The sum of the numbers on any two adjacent faces is a multiple of 6.
What is the smallest possible sum of the six numbers?