Puzzles
Shinro
In the grid below, there are 12 holes hidden in the grid. Each of the arrows is pointing towards at least one hole. None of the arrows covers a hole.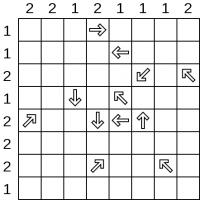 For example, the arrow in the first row tells you that at least one of the last four squares in that row contains a hole.
Find the location of all 12 holes.