Puzzles
Is it equilateral?
In the diagram below, \(ABDC\) is a square. Angles \(ACE\) and \(BDE\) are both 75°.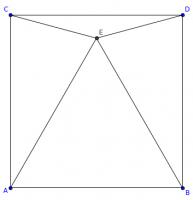 Is triangle \(ABE\) equilateral? Why/why not?
17 December
The number of degrees in one internal angle of a regular polygon with 360 sides.
Ticking clock
Is there a time of day when the hands of an analogue clock (one with a second hand that moves every second instead of moving continuously) will all be 120° apart?
Dodexagon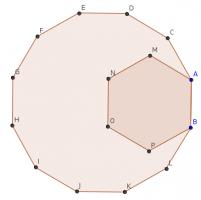 In the diagram, B, A, C, D, E, F, G, H, I, J, K and L are the vertices of a regular dodecagon and B, A, M, N, O and P are the vertices of a regular hexagon.
Show that A, M and E lie on a straight line.
Three squares
The diagram shows three squares with diagonals drawn on and three angles labelled.

What is the value of \(\alpha+\beta+\gamma\)?